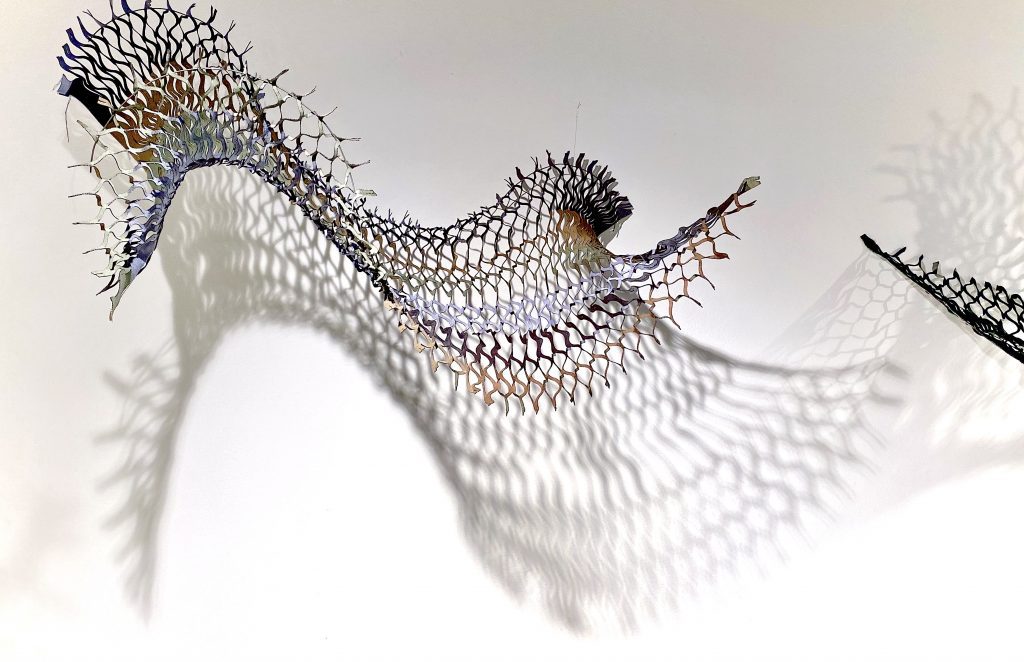 My degree project explores the possibilities of shaping space with lightweight textile-based elements. The focus is on transforming surface geometries into 3D patterns, using laser cutting machines and exploring cut patterns. The result is a collection of sculptural spatial configurations which divide and defines space. Each design is a permeable three-dimensional form that projects a unique pattern of shadow and light.
The explorations are primarily material-driven. Reusing material that has been cast aside (used carpets, old curtains, fabric remnants), I source discarded leftover textiles as the starting point for each prototype. Because I start with whatever piece of textile is available to me at the time, I allow the material itself to impose limits and restrictions. Each piece of fabric presents a problem waiting for a solution. Each finished prototype becomes a solved puzzle.
A key objective is to create inviting and organic designs. While I cut the fabric with laser in precise patterns, I let gravity and light create an imperfect and organic result. Another key objective is to create flexible designs while still being robust enough to be portable.
The result shows three prototypes: 1) Murmuration, 2) Gravity Screen, and 3) Stalagmites and Stalactites. Each prototype takes its name after the design process. Each prototype installation reflects artistic approaches, creating unique atmospheres and spaces. 
Prototype #1: Murmuration
This prototype is created by stretching the cut fabric with semi-circle wires. The wires help to support and shape the fabric, resulting in fluid and organic forms (varied in fabrics' length and thickness).
The heat from the laser cutter also creates delicate burnt edges between cut patterns. It enables to cut with more than one single layer of fabric. Double-layered to the four-layers fabric are tested.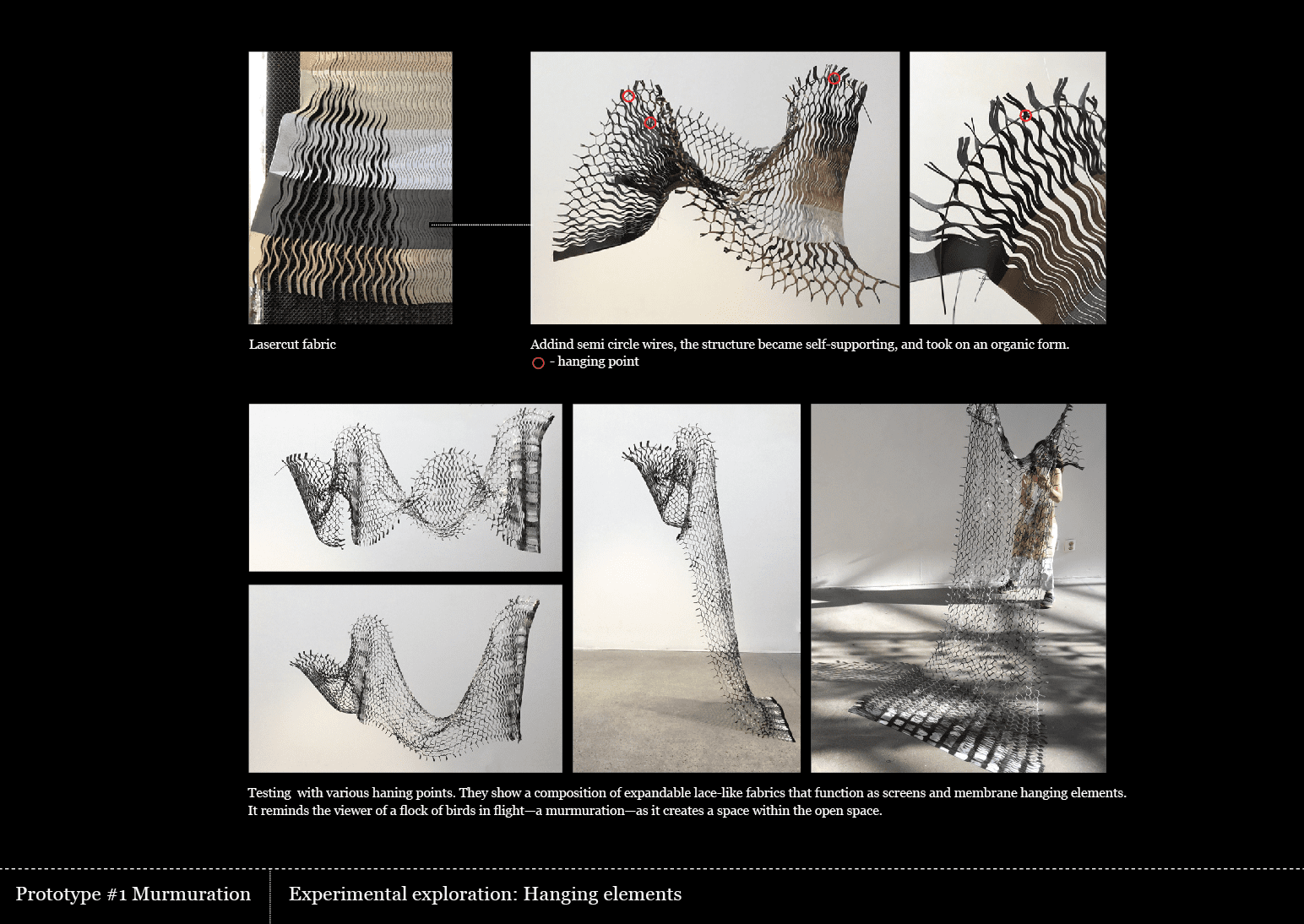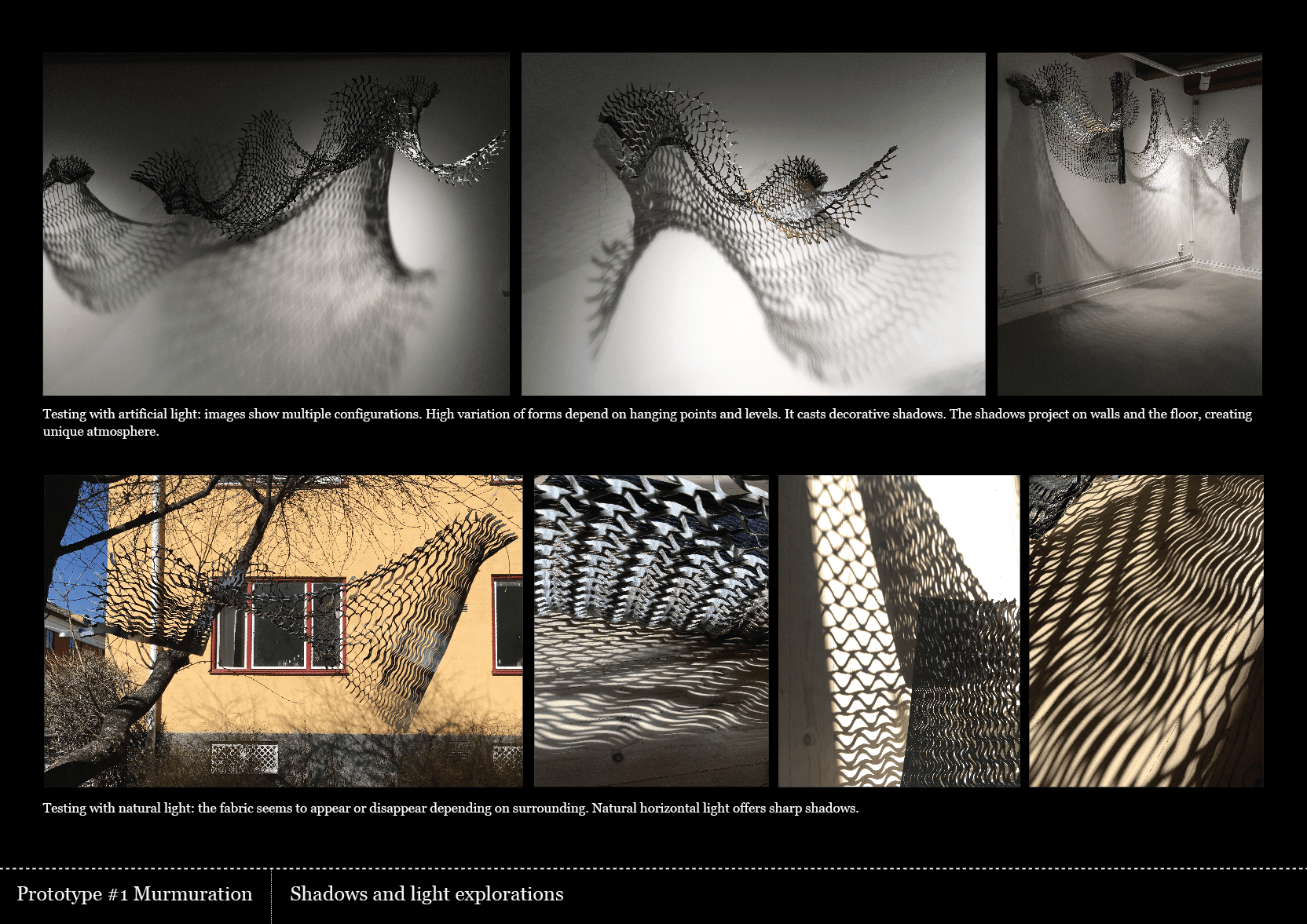 Prototype #2: Gravity Screen
The 2nd prototype is designed with the striped cut pattern on the used felt floor covering, carpets, and layered curtains. A series of identical sections connect with solid pieces of wood/acrylic.
An overall shape gets stretched and slenderized by gravity. The longer it gets, the slender it becomes.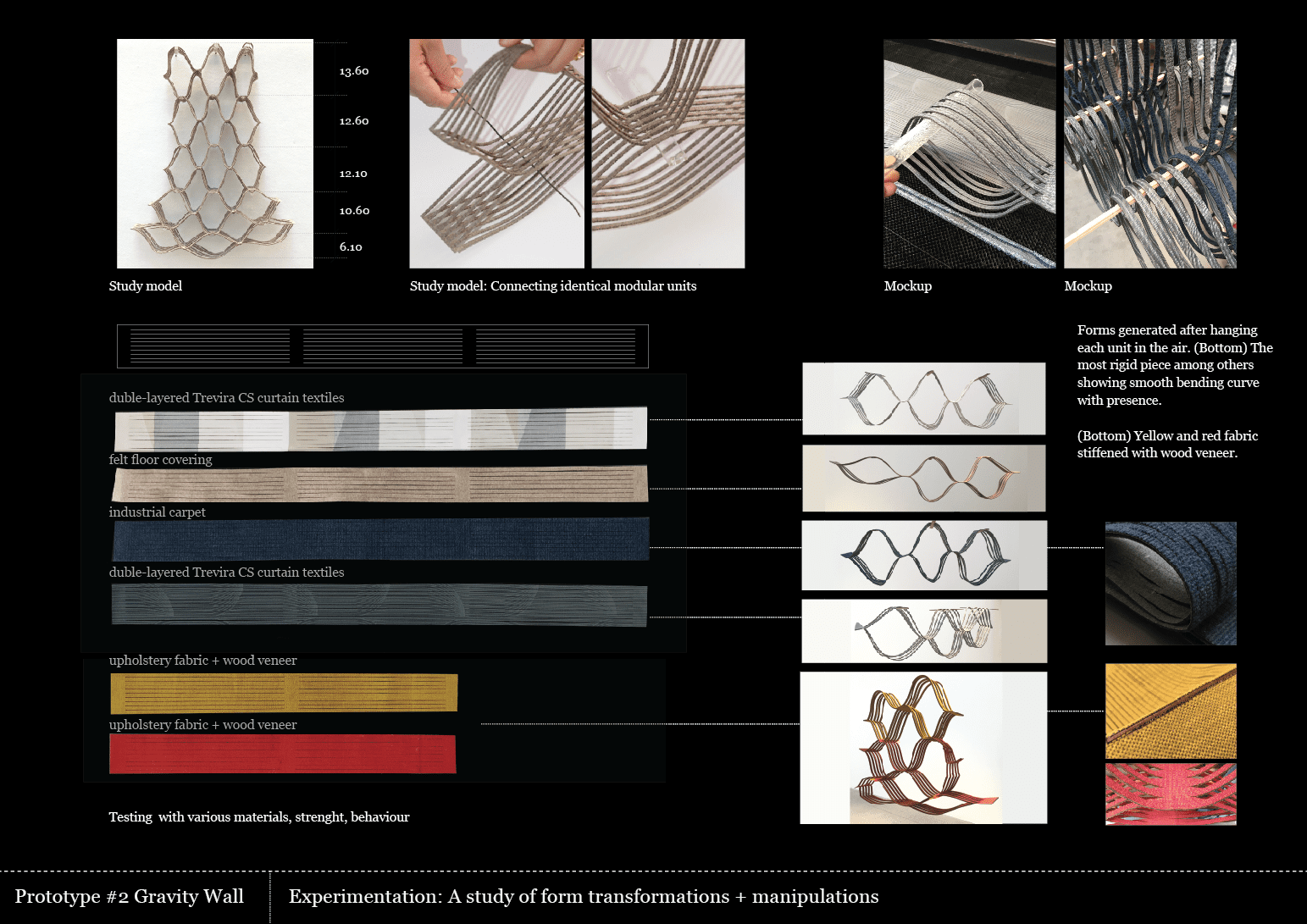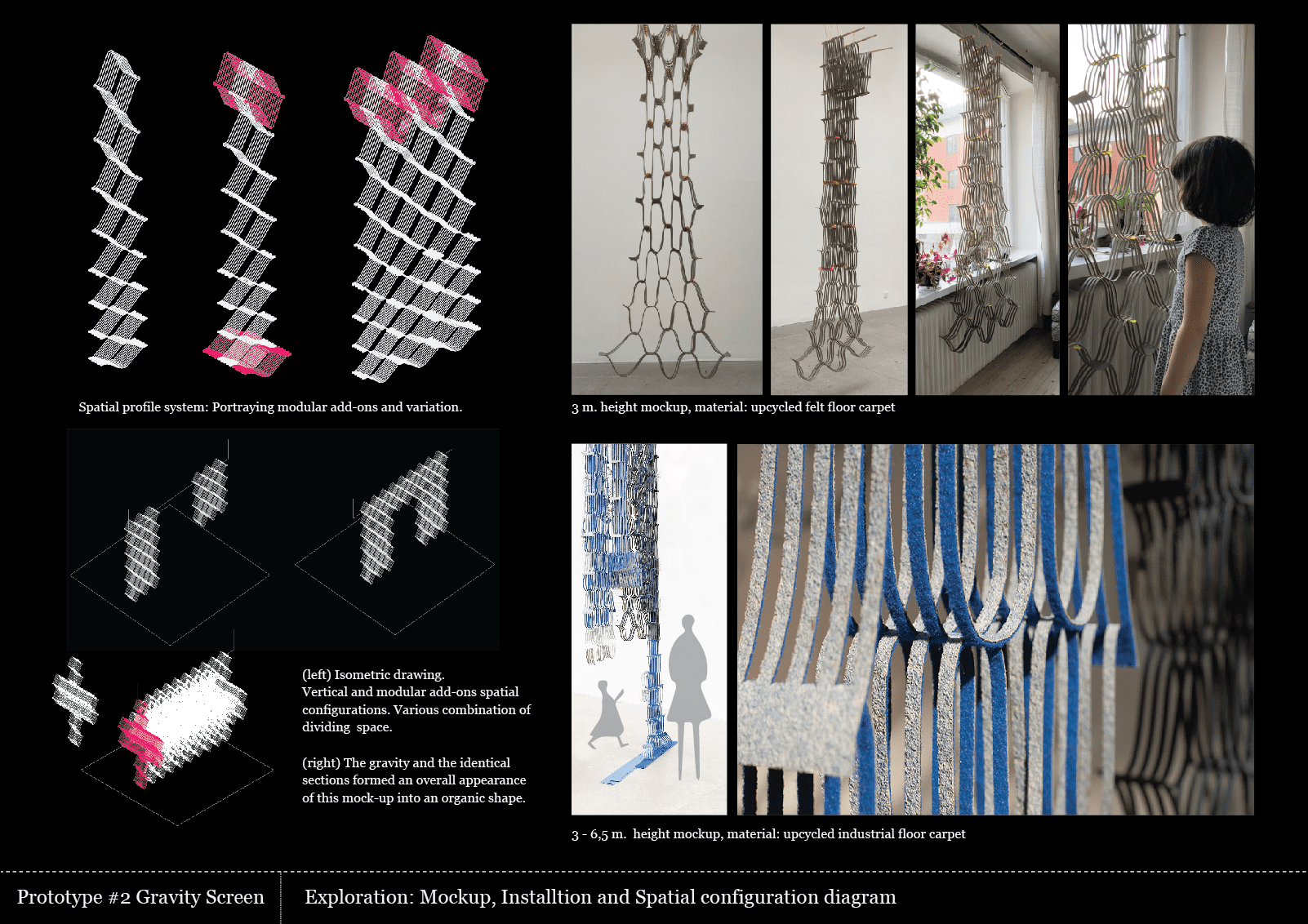 Prototype #3: Stalagmites and Stalactites
Starting with outlines of basic geometrical shapes (circle, oval, square, rectangular, pentagon, hexagon) on the end of roll curtain fabrics, concentric symmetrical cut patterns of the shapes were cut on the pie es. Once they came off the laser cutting bed, the ready-cut fabrics obtained three-dimensional forms or defined volumes of space from plane surfaces. A chosen form was almost like a col mn. While I installed them upward and downward, they formed stalagmites and stalactites, like in caves.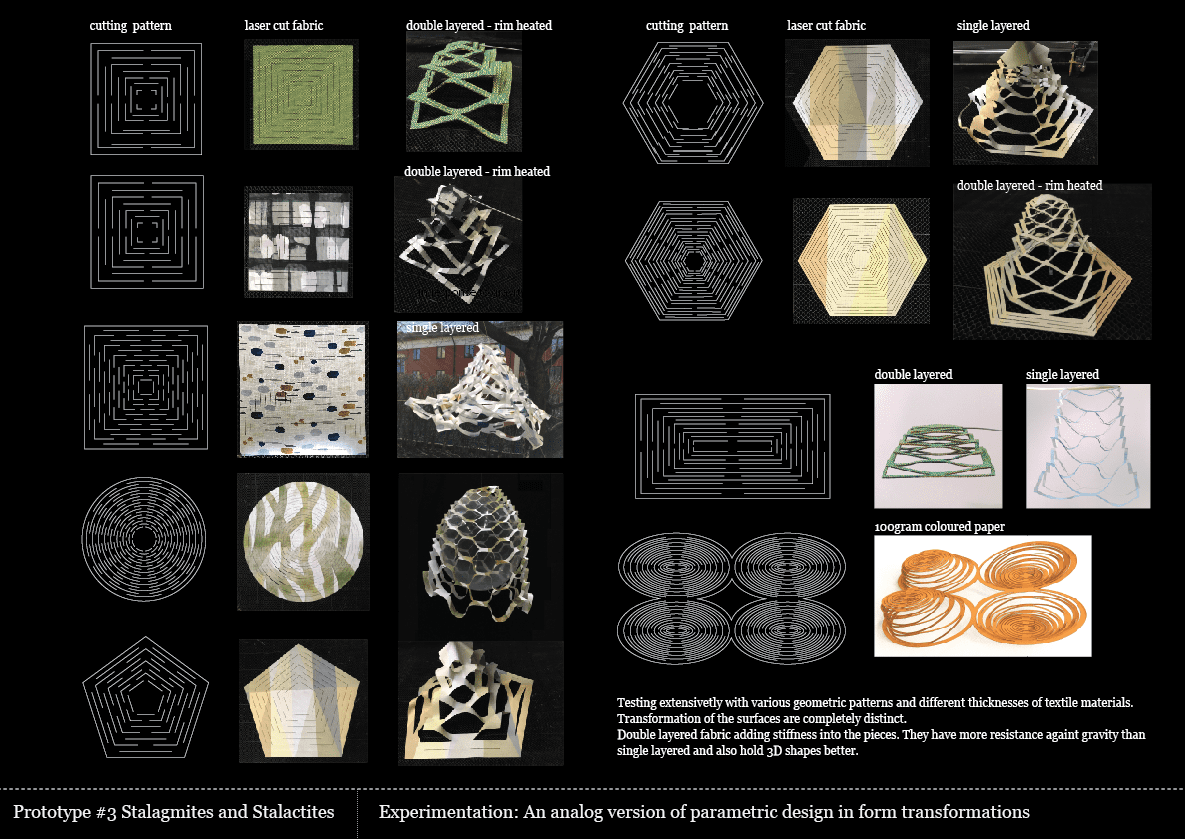 Published in Textile Design